Gateway to library of over 250 helpful reports by Nicholas Hellmuth and FLAAR staff on wide format inkjet printers, inkjet media, RIPs. We cover the entire workflow: from scanning through to finishing (cutting, coating, laminating).
Konica Minolta Accurio Wide 200 UV-curing Bright Colors achieved plus no banding
Posted October 30, 2019

Here are the test prints from the Konica Minolta Accurio Wide 200 UV-curing printer at SGIA 2018.
This FLAAR REPORT will be ready by next week.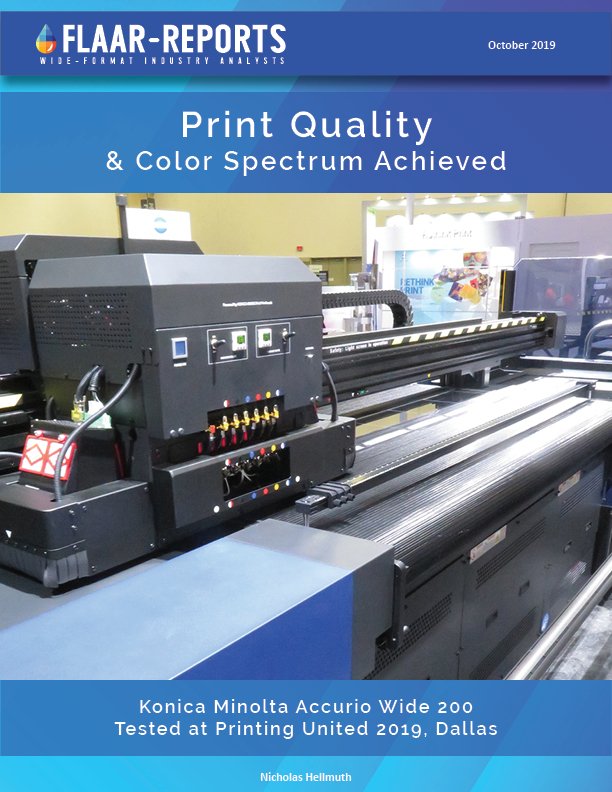 Here you can see the wide range of bright colors
Having studied color spectrum of UV-curing inks for the past two decades, I noticed that the colors achieved by the Konica Minolta Accurio Wide 200 hybrid (combo transport belt) printer were very very good.
Our FLAAR-REPORT on the colors in our print tests at PRINTING United should be ready by next week.


CET UV-curing printers at PRINTING United 2019
Posted October 22, 2019
At SGIA 2018 we accomplished test printing on nice CET Color model 3200uv-RTR UV-curing printer in the booth of CET Color. Our FLAAR-REPORT is available.
We look forward to visiting the CET Color booth (booth 8038) at PRINTING United 2019. I will be at this expo the last two days (Oct 24 and 25) to do additional test prints to see the color quality.


To learn about an ink for wide-format inkjet printers it helps to visit the factory and visit print shops using the ink
Posted October 18, 2019
There are probably over a hundred brands of inks for wide-format inkjet printers. In order to learn which are trustworthy brands we visit the company headquarters, visit the ink factory, and then inspect print shops that are using these inks.
Based on our inspection of the several factories of A.T. Inks plus several printing companies using these inks, we now have four FLAAR-REPORTS available for you.
For printers, it's also crucial to visit the factory and printshops using that brand of printer. This is how FLAAR-REPORTS distinguishes itself from a trade magazine: we visit the factories and then the printing companies out in the real world. We do this because our goal is to do research, locate good products and make information available to print shops and distributors around the world.
Comparable for flatbed cutters, laminators, color management software, RIP software, and printable materials. We look forward to vising additional factories around the world in 2020 and bringing our over 700,000 readers fresh information.


APPPEXPO 2017 opens today in Shanghai
Posted March 8, 2017
We visited Halls 1, 2, 3, 4, 5, and 6, plus the expanded hall "Nh" (North Hall).
The Nh has added several new exhibitors and for 2017 is more than just textile printers (though still has a textile focus).
Hall 2 is solid wide-format inkjet printers and lots of desktop inkjet-printers, plus cutters and some media.
Most printable substrates are in Hall 4, along with many ink companies.
Hall 3 also has lots and lots of booths of media and other printable substrates, plus textile printers, UV-curing printers and more. EFI VUTEk, dilli, AGFA, Swissqprint, Mimaki, etc are here, as are ink books: Jetbest, SamInk, Nazdar and many more.
Great expo and this was yesterday, the day before it opens. Today is the first of four days and fortunately there are six of us flown here, so we can cover the frankly remarkable diversity of products (plus signage per se in Halls 5 and 6).
Saw an especially nice exhibit of deep relief lenticular prints in Hall 3. Dr Nicholas plus Flor de Maria Setina will be compling a complete list of everything 3D at APPPEXPO.


SGI 2017, Sign Middle East, Dubai
Posted December 7, 2016
The largest sign and printer expo in the Middle East will be 15 through 17 January, 2017, in the Dubai World Trade Center.
Halls 4, 5, 6, 7, and 8.
Dr Nicholas and FLAAR video director Erick Flores will both be attending.
This is the 20th anniversary so we look forward to seeing lots of printers, inks, traditional signage, and diverse other products which are worth learning about.
Visit www.SignMiddleEast.com for more information.


FESPA Africa, Africa Print, and more (all co-located), this week
Posted September 5, 2016
Dr Nicholas will be either lecturing or on a panel every day (all three days) of FESPA Africa (September 7, 8, and 9).
When not on a discussion panel or lecturing, he will be evaluating:
Textile printers of all sizes and structures
UV-curing printers
After-market inkjet ink
Printable materials and substrates
Toner-based and inkjet desktop and office printers (Xerox, OKI, Canon Oce, plus any comparable brands which have a booth at co-located Africa Print).
A week later, three of us from FLAAR will be at SGIA printer and signage expo in Las Vegas, USA.
Then towards end of September, Dr Nicholas will attend:
Glasstec in Duesseldorf (printers for glass, but professional inkjet, not just UV)
Photokina in Cologne (fine art giclee printers and digital cameras)
Tecnargilla in Rimini, Italy (printers for ceramic tiles, floor tiles and wall tiles)
Sign Istanbul in Turkey (everything for signage, plus 3D printer expo)


FLAAR at FESPA Mexico 2016
Posted June 16, 2016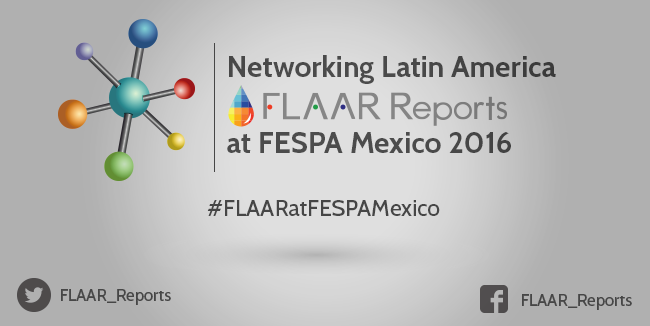 Check our feed on Twitter, Facebook and all our printers sites about us in FESPA Mexico 2016. #FLAARatFESPAMexico
Two members from FLAAR staff will attend FESPA Mexico 2016 on late August. There will be FLAAR Reports based on what we find at the exhibition.
If you are interested in consulting write FrontDesk "at" FLAAR.org or if you wish to order any of the upcoming FLAAR Reports.


ISA printer & signage expo, Orlando
Updated April 7, 2016. Posted Feb. 7, 2016
Lots to see here at ISA: printers (UV-cured, textile, solvent, latex, water-based), inks, media & substrates, cutters, laminators, RIP software, color management.
It would be nice to see more evidence of 3D applications. Sign Istanbul in Turkey had an entire area for 3D printers. But even if there are not 3D "printers" we at FLAAR have written articles on how you can accomplish impressive 3D signage with a UV-cured printer and a flatbed cutter (helps to have a good graphic designer and copies of the FLAAR Reports to show examples.
We hope to see you at ISA, including in our FLAAR Reports booth, 1889.
For further info, visit www.signexpo.org
APPPEXPO 2016 in Shanghai, worth attending in March
Updated Feb. 10, 2016. Posted Dec. 20, 2015

FIVE of us will attend APPPEXPO 2016 in Shanghai. Yes, this printer & signage trade show has an exhibitor list big enough that we fly five FLAAR Reports evaluators to China. Hundreds of brands of printers, HUNDREDS. Hundreds of brands of media and substrates. Where else do you find this many opportunities (other than in smoke-and-mirrors PR releases by people who don't attend expos around the world so they don't actually know where are the best expos to attend).
Plus Shanghai is a beautiful peaceful city, so worth taking your employees (and your family) to visit. March 9, 10, 11, and 12, 2016.
For more information visit www.apppexpo.com/index/2/EN
Graphics of the Americas, Miami, now in February
Posted Feb. 8, 2016
Dr Nicholas Hellmuth will be giving two lectures in Spanish and one in English. If you wish these for your company OpenHouse, or for your booth or company event at any other trade show, anywhere in the world, you can fly Dr Nicholas there (naturally all three lectures can be in English; or you can pick another topic).

We hope to see you in Miami at Graphics of the Americas: we fly there every year for many years.
Thursday 18, February
2:30pm – 3:45pm
Lecture E7
Spanish Lecture on
Water-based inks

Friday 19, February
2:00pm – 3:15pm
Lecture E14
New Technology in
Printing on Textiles

Saturday 20, February
11:00am – 12:15pm
Lecture E23
Spanish Lecture on
3D printing and signage
First inkjet and signage expo of 2016: SGI in UAE
Updated Feb. 7, 2016. Posted Jan. 8, 2016. Updated Jan. 14, 2016
Two of us were in Dubai to attend SGI 2016, Sign & Graphics Imaging Middle East. We will be issuing the FLAAR Reports this coming week.
FESPA AFRICA 2015
Updated August 18, 2015
Posted June, 2015
This year FESPA AFRICA was late July, so no more competition with APPPEXPO (which actually in 2015 moved from early July to several months earlier). In 2014 FESPA Africa and APPPEXPO were the same week.
So now FLAAR is back at FESPA Africa. We like this expo for several reasons. It is organized by the same team that do the leading printer trade magazine for this part of the world. Plus the expo is co-located with a sign show, with an LED expo, and with AFRICA PRINT (which means toner-based printers and many other related equipment).
We at FLAAR like to see toner-based brands; it is sad that so many "inkjet" or "sign" expos don't have adequate diversity to also feature toner-based office printers.
Dr Hellmuth was at these co-located trade shows in Johannesburg July 22 through 24, 2015.
You can subscribe now to obtain our new FESPA Africa 2015 report.
How to decide which trade shows to attend?
Posted May 13, 2015
We recommend: at least one of the good printer and signage expos in the USA (we attend four, and two are really worthwhile, but we attend three to four every year to be sure we keep track of all new inks, printers, etc).
It is crucial to attend one of the best printer expos in Europe because the key European companies have their full staff only at these expos (at an expo in North America you may only see their local sales repos).
It is essential to attend the largest expo in the world, which for the last two years has clearly been APPPPEXPO. Most other expo PR agencies have obviously never been to APPPEXPO or simply are paid to blast out misleading claims that their expo is "the largest printer expo in the world." This is a typical claim for a show which is good but nowhere near the largest; to overcome the lack of size they pressure their PR agents to send out silly claims
It is also essential to attend the best local or regional expo in your area: FESPA Africa would be an example for South Africa. SGI (aka Sign Middle East for the Middle East, etc).
Using this formula (one in USA, one in EU, and the best local regional expo close to your home base) we recommend FESPA 2015 in Cologne, FESPA Mexico 2015 in Mexico City, and FESPA Africa (was Sign Africa for many years).
ISA sign and printer trade show opened last April
Posted April 6, 2015
Our experience over fifteen years is that print shop owners and managers, distributors, and manufacturers should visit the leading expos in their own home country, the leading expo of printers & signage in Europe, and the gigantic APPPEXPO in China (which for printers, inks, and media is larger than all other expos in the world put together including DRUPA).
For people in North America (Canada, USA, and Mexico should attend the big international expos in this part of the world (yes, geographically Mexico is part of North America down to its Isthmus of Tehuantepc). ISA is the first large wide-format-printer and signage expo for North America, so we recommend you attend.
Five of us from FLAAR flew there since the expo opened last April 9th, in Las Vegas.
We hope we have seen you there, at our booth #416, though the team of Dr Nicholas Hellmuth were out in the aisles evaluating inks, media, printers, software, laminators, coaters, and cutters.
FLAAR attended D-PES 2015 in Guangzhou
Posted Jan. 20, 2015
Every single year, since D-PES first started in Dongguan, FLAAR Reports has helped provide information about printer expos to our growing list of readers.
D-PES has moved to Guangzhou already several years ago, and for 2015 was very different than in past years. It was important to see, in-person, all the changes, so FLAAR Reports attended D-PES.
To learn more you can visit their web site, www.chinasignexpo.com/en/
---